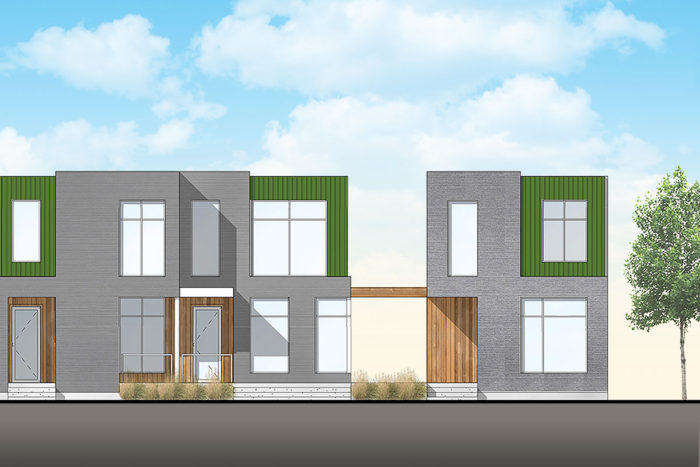 Rendering of Rise affordable housing units

Construction of more than 150 mixed-income housing units is planned to begin later this year in the Forest Park Southeast neighborhood, bordering the Washington University Medical Campus. The $27 million project will be led by Rise Community Development and Unify Grove Development.
The housing development is sponsored by the Washington University Medical Center Redevelopment Corporation (WUMCRC), a public-private partnership between Washington University School of Medicine and BJC HealthCare.
Over the past 20 years, WUMCRC has invested more than $35 million in Forest Park Southeast, supporting neighborhood investments in safety and security, jobs, education, and the development of the entertainment, restaurant and commercial district along Manchester Avenue, also known as the Grove. A large portion of WUMCRC's investment entailed purchasing and holding properties in the neighborhood, with the ultimate goal of attracting interested developers with strong records in redeveloping and strengthening mixed-income, diverse communities.
The Forest Park Southeast neighborhood is bordered by Interstate 44 to the south, Kingshighway Boulevard to the west, Interstate 64/Highway 40 to the north and Vandeventer Avenue to the east. The new housing project is focused south of Manchester Avenue, which bisects the area.
Rise, one of the region's top nonprofit developers of affordable and market-rate housing, plans to build 50 townhomes and garden apartments. These affordable units will replace many of the boarded-up buildings and empty lots on the 4400 blocks of Vista, Norfolk and Swan Avenues. Called Adams Grove, the project will feature contemporary design and sustainable building techniques and is expected to be completed in 2018.
Unify Grove Development, a leading builder of market-rate housing, plans a three-year, three-phase construction of 46 new houses. Unify also plans to build three apartment buildings with a total of 60 units. The new houses and apartments are expected to be completed in 2019.
Rendering of interior single family home to be built by Unify Development
Forest Park Southeast has experienced major revitalization in the past decade. This growth reflects the continued expansion of the Medical Campus as well as the nearby development of the Cortex Innovation Community, which has become one of the region's largest economic engines.
With the positives of revitalization have come increasing concerns about maintaining affordability and access to Forest Park Southeast for long-term and lower-income residents. WUMCRC has aimed to prevent displacement of lower-income residents by selling, at no financial gain, its properties to developers who have pledged to preserve affordable housing.
Forest West Properties has also been working with several other smaller, local developers to encourage housing diversity in the neighborhood. Some of these developers include Tony Trotter; who has rehabilitated a single-family home on the 4200 block of Swan Avenue, and Mangrove Development;  who will be rehabbing two buildings on the 4200 block of Swan as well as new construction single-family homes on the 4400 Block of Swan.