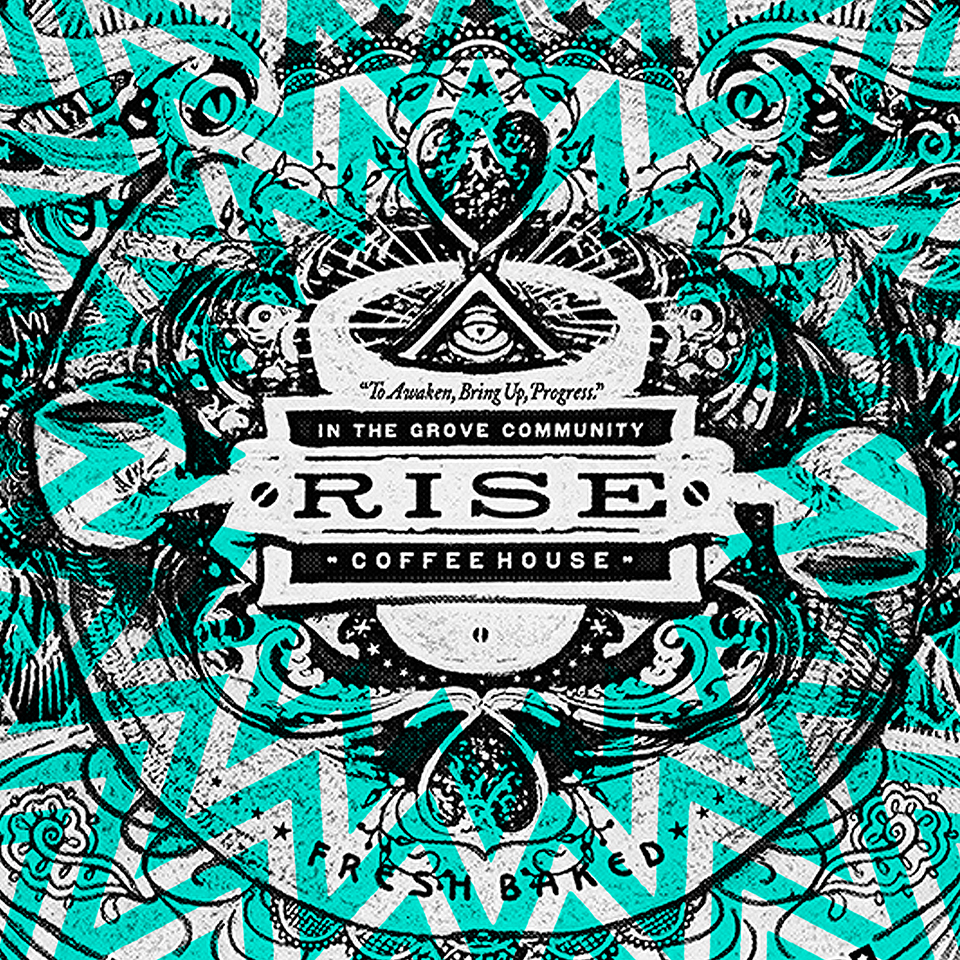 Q&A: Sneak Peek into RISE
How long has the idea of Rise been in your head?
I've always found a great deal of peace and community hanging out in my favorite St. Louis coffee shops and would dream of opening my own one day, but the actual concept for RISE started around the time I began my community work in the Grove and saw the need for one."
Can you sum up the concept of Rise in one sentence?
RISE aims to awaken, bring up and progress our city through sustainably crafted coffee and baked goods, all while spinning the tunes we like best. 
What have been the biggest obstacles thus far?
Trying to find a property along Manchester that had the perfect character of an old city coffee shop.
What attracted you to this particular building?
It feels very intimate and is full of personality: exposed wooden beams and brick walls, lots of natural light, a large green space with the potential for a coffee garden and some parking, plus a central location within the business district.
When can we expect Rise to be up and running?
Late summer 2013.
Describe the layout.
Open air concept with an authentic to the Grove feel: mismatched tables and chairs, upcycled reclaimed wood coffee bar, books, a few games of chess and checkers, local art, raised garden beds, vintage sofa and chairs, and some handmade light fixtures made from mason jars.
Where does the name come from?
One Saturday morning this past fall I was drinking coffee, listening to music, and watching my young son get into all sorts of things he shouldn't, when this beautiful Eddie Vedder tune, "Rise" came on.  I thought it would be a perfect name for a shop.  Then I later made this connection to one of my all time favorite quotes by Martin Luther King…"An individual has not started living until he can rise above the narrow confines of his individualistic concerns to the broader concerns of all humanity."   I wanted to incorporate this notion that as a community, as a city, we should rise together, because we really have a lot of work to do to make things right here.  I want to be a voice for that.  I'm a socially minded person that loves justice, community, and coffee.  Plus rise and shine!  Duel meanings are always pretty rad.
How will you set yourself apart from other coffee establishments in the city?
As someone who has never worked as a barista or managed a coffee shop, I've had to rely a great deal on those who have come before me for advice, direction and support.  The coffee community in this city is wonderful, which makes this question a difficult one because they've shared and helped in so many ways.  I am very grateful.  We will have a small creative space on the 2nd floor for those urbanites with kids in tow…we need to make more inclusive room for our little ones.  They belong here too.  So that's different!
Why Forest Park Southeast and particularly the Grove district?
This neighborhood is so full of life, potential, diversity and has a wonderfully inclusive nature, but there is still a lot of work to be done, and I'd like to be a part of its progress.
Can you give us a little insight on the menu at Rise?
We are still working on this, but thinking coffee, tea, smoothies, bottled beverages, locally sourced baked pastries.  Also, fruit, veggies, yogurt.  Eventually we hope to offer a light lunch once it makes sense and we can tackle it.
How does your background in social work and being a mother translate to your new business?
A passion for community – coffee brings people together and makes them feel inspired.  At RISE, we hope to bring out creativity and passion in people. As for being a mother, I want my son to feel a sense of adventure about growing up in a city that is progressing, changing.  Children who feel included in that kind of process, well, who knows what kind of wonderful awareness that may bring…