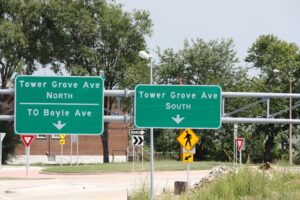 The new I-64/Tower Grove interchange is set to open this Friday (8-29-2014). After more than a year of construction, drivers will have a new alternative to reach the Washington University Medical Center campus to the north and the Forest Park Southeast, Botanical Heights and Shaw neighborhoods to the south.
The new interchange, which began construction in January of 2013, has been a dream of both the medical center institutions and the neighborhood for over ten years. The new interchange will also provide a new front door to the rapidly development CORTEX Innovation Community. Today's opening will mark the final phase of the project, which included:
New bridges over I-64 at South Taylor, South Newstead, Tower Grove and South Boyle Avenues
A new eastbound off-ramp at Tower Grove
A new westbound on-ramp at South Boyle Avenue
An improved westbound off-ramp at South Boyle Avenue
A new roundabout on Tower Grove Avenue just south of I-64
New and realigned traffic signals to smooth traffic flow through and around the project
New or resurfaced highway payment between Kingshighway Boulevard and South Sarah Street
Washington University and BJC HealthCare provided support to the Missouri Department of Transportation for this important project, with the goal of improving traffic flow around the WUMC campus and surrounding neighborhoods.