Joel Glasscock, Washington University Medical Center Redevelopment Corporation's newest Community Development Intern just completed his junior year at Iowa State University.  Joel has spent most of his life here locally in Fenton, Missouri and also attended Vianney High School in Kirkwood. Currently, Joel is working towards his bachelors degree in Urban and Regional Planning and will graduate in the Spring of 2014.
Joel joins WUMCRC with a keen interest in expanding on his technical skills and overall experiences in regional planning. His background and passion for the field of planning began all the way back in high school, in an architectural drawing class.  In his new role at WUMCRC, Joel will be assisting and collaborating on the creation of digital 3D models of WUMCRC's core redevelopment neighborhoods and commercial corridors.
When he's not creating 3D SketchUp models for WUMCRC, Joel enjoys sports of all variety including volleyball, which he played at Vianney High School.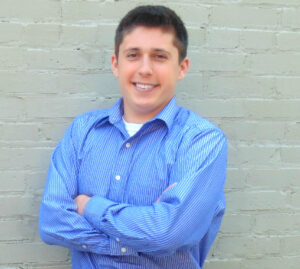 ONE MINUTE WITH JOEL:
WUMCRC: "What do you think is the single most influential thing that brought you to work at WUMCRC?"
JOEL: "WUMCRC has given me the opportunity to help in the revitalization of St. Louis City, and that right there is my dream job."
WUMCRC: "What do you enjoy most about living in St. Louis?"
JOEL: "I really enjoy spending time downtown whether it be at Cardinals and Blues games.  I also enjoy Forest Park and the Loop, those are atmospheres you cannot find anywhere else."
WUMCRC: "If you could be any bird, what would you be and why?"
JOEL: "Without a doubt I would be a Bald Eagle, because of the protection it receives and the fact that I love America!"