Rebuilding Together St. Louis believes in safe and healthy homes for every person, that is why WUMC has partnered with Rebuilding Together in the Forest Park Southeast neighborhood for the last 15 years.  This summer, Rebuilding Together and WUMC will once again work together to assist needy homeowners in Forest Park Southeast to maintain and restore their historic properties.  This continual initiative not only provides safe and comfortable homes for Forest Park Southeast residents, but it also maintains the unique character of the neighborhood. 
Cheryl Reale, Development Director at Rebuilding Together stated, "We feel like our presence in the Forest Park Southeast neighborhood is very valuable.  This is a neighborhood that continues to improve itself and we are happy to work with WUMC to be a small part of the rejuvenation.  The housing stock as a whole in St. Louis is very old, Forest Park Southeast is a perfect example of one of those historic neighborhoods that needs a little nurturing in order to propel itself into a strong future."
This summer, WUMC and Rebuilding Together will be working on 6 historic homes in Forest Park Southeast.  Brook Goedeker, Community Development Manager at WUMC added, "At times maintaining these historic homes can be overwhelming, especially for senior citizens or individuals who have fallen on hard times.  We love our partnership with Rebuilding Together St. Louis.  Often times, Rebuilding Together is able to triple the amount of funds we put towards a project through volunteer labor and donated materials and supplies." 
This summer's projects will consist of construction of several new roofs, installation of new gutters, bathroom and kitchen plumbing work, and a complete overhaul of two electrical systems.   
"The relationship WUMC has with their neighborhood is outstanding and full of integrity. We like to work alongside organizations like WUMC because of the great care they have for their area.  Obviously, the financial assistance WUMC gives us goes a long, but even more important is the work Brooks Goedeker and the rest of the WUMC team conduct in recruiting and assisting homeowners throughout the application and rebuilding process." added Cheryl Reale.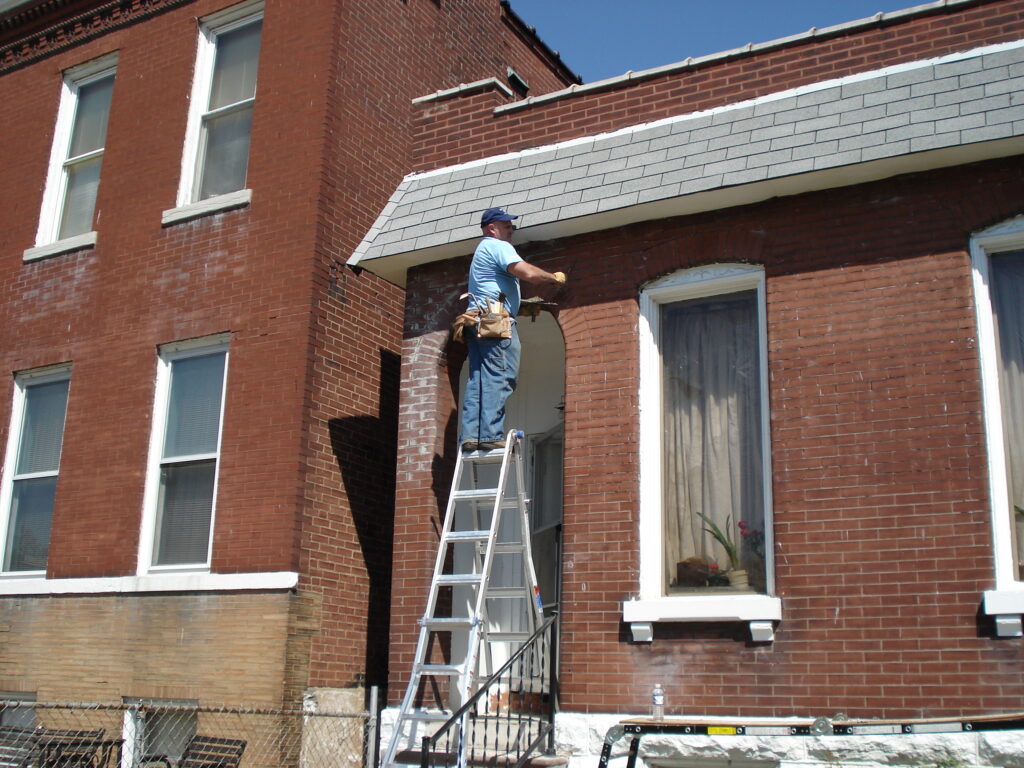 The brick siding often times needs repair.